By: Michael R. Mantell, Ph.D
Fitness Psychology San Diego
See those club members who look like they can't make up their minds on the treadmill, recumbent bikes, elliptical machines, and other cardio equipment? Fast, slow, on the treadmill running as fast as they can, then jumping to the side and barely able to catch their breath before jumping back on. They aren't confused. They are getting fitter, healthier and stronger often in half to one-third the time of typical endurance workouts.
They are also improving their insulin sensitivity, improving their cholesterol numbers, turbo-charging their fat metabolism, potentially eliminating diabetes type 2 and some forms of depression and hypertension, increasing their levels of human growth hormone and expanding aerobic capacity. Interval training trumps steady state uphill exhaustion when it comes to putting a smile on your face and reducing stress as well.  Not bad for someone who doesn't seem to know if he/she wants to give it his/her all or coast for a bit.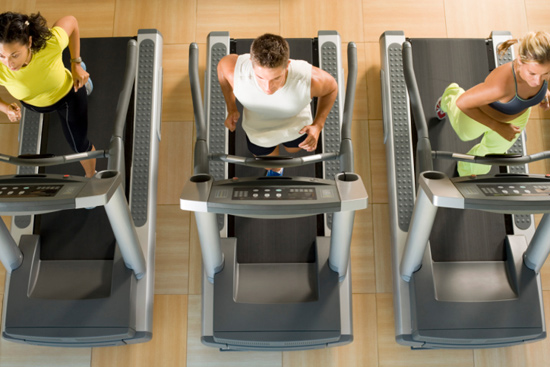 Don't let that up and down fool you. It's intentional. If you haven't tried High Intensity Interval Training, or HIIT, what are you waiting for? A pill to swallow?
Maximum exertion followed by a brief rest period for 6-10 cycles, is the essence of HIIT.  Start with a comfortable 3-5 minute warm-up and then a series of 30-second sprints each followed by 90 seconds of recovery, and end with another 3-5 minute cool down.  Or adjust the incline while going at a steady pace, increasing the exertion peak and decreasing the recovery time as you become fitter. Some like the idea of sprinting for a couple of minutes and then doing a slower jog or walk for a minute, followed by 6-8 cycles. When it becomes too easy, sprint for four minutes and cool it for two minutes.  Go faster and longer with about a 50% reduction in your cool down time for each "peak." Think approaching 95% of your max heart rate and peak VO2 Max.
Your VO2 Max, which is the maximum amount of oxygen you use during peak exertion, is a measure of your cardiovascular fitness.  HIIT boosts this measure increasing your ability to use oxygen more efficiently, allowing longer and more strenuous workouts before fatigue sets in.  Your metabolism continues to burn longer as well post-exercise, some say burning up to 15% more calories during the 24 hours following a HIIT session.
Of course, obese, deconditioned, injured folks, or those with hypertension or heart disease should check with exercise savvy physicians to be cleared for this type of elevated demand.
Think of HIIT as a dance, back and for the across the aerobic-anaerobic line, each time, catching your breath.  Probably won't get you a trophy on "Dancing With the Stars," but it sure will increase your health, fitness and happiness in a condensed time frame. You decide what's more valuable.